ฺBanner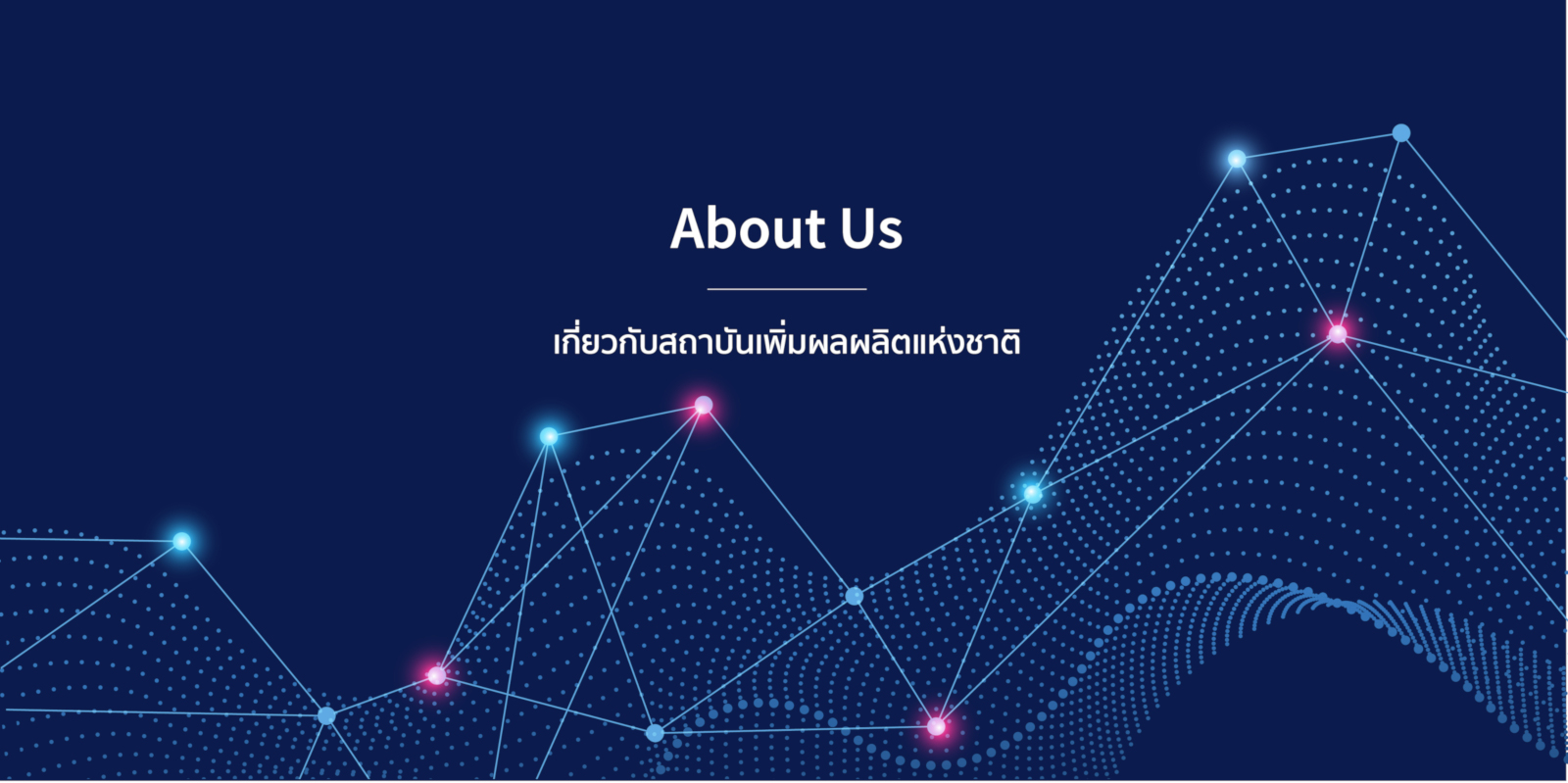 Thailand Productivity Institute is a national institute with roles
in guiding and enhancing organizations' productivity to increase competitiveness
and strengthen sustainable growth of organizations and the nation.
Use of resources in the most efficient and effective way
for better quality and value of output and outcome at individual, organizational, and national level,
with the awareness of creativity, learning, and continuous improvement towards sustainable development.
2537
The Cabinet has approved the establishment of the Thailand Productivity Institute (FTPI) as an independent institute under the Ministry of Industry and the FTPI Foundation Board.
Objectives of Establishment
To improve the productivity level of Thai industries
To enhance Thai industries' competitiveness in the global market with management for organizational performance and quality toward the international standard
To mature workers at all level in the industry sector with a good working attitude, more efficiency, productivity skills, and adaptability to industrial changes in the future.
To be a coordinating center of productivity promotion nationwide.
Officially Commenced Operation
1996 - 2000
Developed a course curriculum on productivity knowledge
in vocational education in corporation with the Department of Vocational Education
Got ISO 9001:2000 Certification
Became one of the reviewing and selection committees for The Prime Minister's Industry Award
(Productivity Category)
2001 - 2005
Set up Center of Excellence
to develop a benchmarking process and collect
best practices for further research & analysis and
sharing organizational excellence approach to the public.
Carried out the Need Assessment of Community Enterprise
and publish Productivity Toolkits for Community
Carried out the Thai Wisdom and Inventors project
to promote productivity development via technologies
Set up the OTOP standard for the Department of Industrial Promotion
Worked with the Office of the National Economic and Social Development Board in the Productivity and Investment Climate Survey
2006 - 2010
Developed the Competitive Industrial Benchmarking
Database in ten targeted industries and six processes
for the Office of the Industrial Economics
2554-2558
Celebrating FTPI's 20th Anniversary
Organized with the Federation of Thai Industries
and Asian Productivity Organization
the Productivity Conference 2015:
"Managing Today to Shape Tomorrow's World"
and the Exclusive Session on
"Thriving in the 21st Century World"
to build the organizational adaptability to
future changes (Future Management)
Cooperated with the Asian Productivity Organization
in organization of the renowned
Bangkok International Quality Symposium (BIQS)
Assigned by the Department of Industrial Promotion
in theManufacturing Development to Improve Competitiveness Programme - Productivity
Improvement Approach (MDICP-PIA)
for improving production processes
in SMEs
Applied the Public sector Management Quality Award
Program (PMQA) in Local Administrative Organizations
in Phuket and Samut Sakhon Provinces as pilot
Collaborated with the Stock Exchange of Thailand
in strengthening listed companies' capabilities
and newcomers in MAI (Market for Alternative
Investment with Productivity Excellence Model
(P-EX Model)
Worked with the Office of the Industrial Economics
in development of the Industrial Productivity Master Plan
Carried out a study on a market trend and demand
of OTOP in domestic and international markets for
further value addition with creativity by the Office
of Knowledge Management and Development (Public Organization)
2006 - 2010
Set up a data center for collecting data on
และฐานข้อมูลด้านความต้องการ และกำลังคนที่ผ่าน การฝึกอบรม เพื่อเป็นศูนย์รวมฐานข้อมูลเพื่อพัฒนากำลังแรงงานในเขตเศรษฐกิจพิเศษตะวันออกและใกล้เคียง ให้สามารถรองรับอุตสาหกรรมใหม่ Web site Link
Initiated the activities on productivity awareness
and encouraging continuous improvement
for enhancing competitiveness and sustainable
development
ขยายโครงการ Brain-Based Learning: BBL ในภาคบริการ การพัฒนาทักษะฝีมือสำหรับพนักงานให้เป็นสหวิทยาการ (Multidisciplinary) ให้กับสำนักงานบริหารและพัฒนาองค์ความรู้ (OKMD)
Introduced the Brain-Based Learning for
Skill Development in the service industry
for the Office of Knowledge Management and
Development (Public Organization)
Strongly supported Thai industries for Industry 4.0 Readiness through the Assessment of Industrial Transformation to Industry 4.0 as well as the Manpower Planning for Sustainable Development in SMEs
Strongly supported Thai industries for Industry 4.0 Readiness through the Assessment of Industrial Transformation to Industry 4.0 as well as the Manpower Planning for Sustainable Development in SMEs
Set up a data center for collecting data on
และฐานข้อมูลด้านความต้องการ และกำลังคนที่ผ่าน การฝึกอบรม เพื่อเป็นศูนย์รวมฐานข้อมูลเพื่อพัฒนากำลังแรงงานในเขตเศรษฐกิจพิเศษตะวันออกและใกล้เคียง ให้สามารถรองรับอุตสาหกรรมใหม่ Web site Link
Set up a data center for collecting data on workforce demands and trained workers for developing Industrial Skill Set for the future workforce in the Eastern Economic Corridor (EEC)
(http://CareerCONNEXT.ftpi.or.th)
ยกระดับผลิตภาพด้วยการจัดการนวัตกรรม โดยดำเนินโครงการยกระดับผลิตภาพด้วยการจัดการเพื่อสร้างนวัตกรรม สำหรับการปรับเปลี่ยนในประเด็นที่สำคัญสู่ยุคอุตสาหกรรม 4.0 รวมทั้งร่วมมือกับตลาดหลักทรัพย์แห่งประเทศไทย ในด้านการนำนวัตกรรมมาใช้ในกระบวนการดำเนินธุรกิจเพื่อเพิ่มมูลค่าและโอกาสทางธุรกิจสู่การเติบโตอย่างยั่งยืน เพื่อสนับสนุนและพัฒนาความรู้แก่ผู้ประกอบการที่เป็นบริษัทจดทะเบียนในตลาดหลักทรัพย์ฯ ตลาดหลักทรัพย์ เอ็ม เอ ไอ และบริษัทที่เตรียมเข้าจดทะเบียน
Improved productivity through Innovation Management in collaboration with the Stock Exchange of Thailand launching the cooperation project to "Enhance Efficiency and Growth through Process Innovation" to support entrepreneurs listed in the stock market and MAI
พัฒนาเครื่องมือวินิจฉัยองค์กร SMEs on-line ตามเกณฑ์รางวัลคุณภาพแห่งชาติ
Developed an online TQA Organizational
Assessment for SMEs
GotISO 9001:2015 Certification
GotISO 9001:2015 Certification